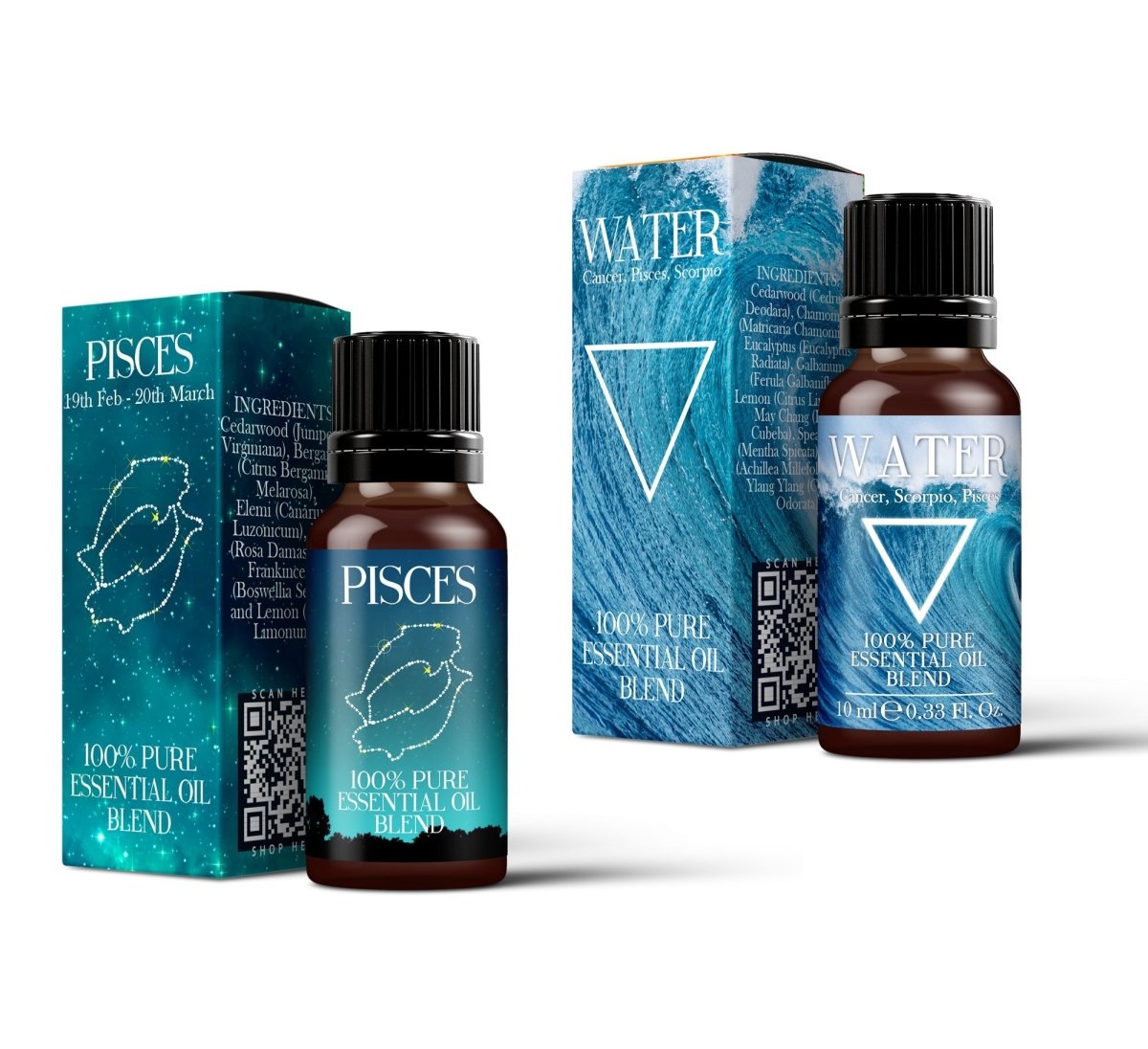 Water Element & Pisces Essential Oil Blend Twin Pack (2x10ml)
Rewards:
With more ways to unlock exciting perks, this is your all access pass to exclusive rewards.
Join now
THE WATER ELEMENT: Emotional
The Water element promotes love, healing, peace, compassion, reconciliation, friendship, psychic abilities and purification. Essential oils of Cedarwood (Cedrus Deodara), Chamomile (Matricaria Chamomilla), Eucalyptus (Eucalyptus Radiata), Galbanum (Ferula Galbaniflua), Lemon (Citrus Limonum), May Chang (Litsea Cubeba), Spearmint (Mentha Spicata), Yarrow (Achillea Millefolium) and Ylang Ylang (Cananga Odorata) enhance the Water element.
The Water essential oil blend brings you a perfect combination of these oils to help you get the most from your element and embrace it.
Strengths: Understanding, trusting, devoted, forgiving and flexible.


PISCES (19th February - 20th March )
This blend contains oils that can help to nurture a Piscean's sensitive inner self and also effectively ground their dreamy and impractical nature. Also contains oils that are very beneficial in easing pain and inflammation.
INGREDIENTS:
Cedarwood (Juniperus Virginiana), Bergamot (Citrus Bergamia Melarosa), Elemi (Canarium Luzonicum), Rose (Rosa Damascena), Frankincense (Boswellia Serrata) and Lemon (Citrus Limonum).
How to use:
Add 5-7 drops (0.3 ml) to water in a vaporizer or burner.
Add 10 drops (0.5 ml) to 15-25 ml of carrier oil for use in massage.
Add 6-15 drops (0.1 ml) per 30g of selected Skincare Base before application.
Add 2 12 drops into your bath.
Do not consume or apply undiluted to the skin
---
Specification Documents
---