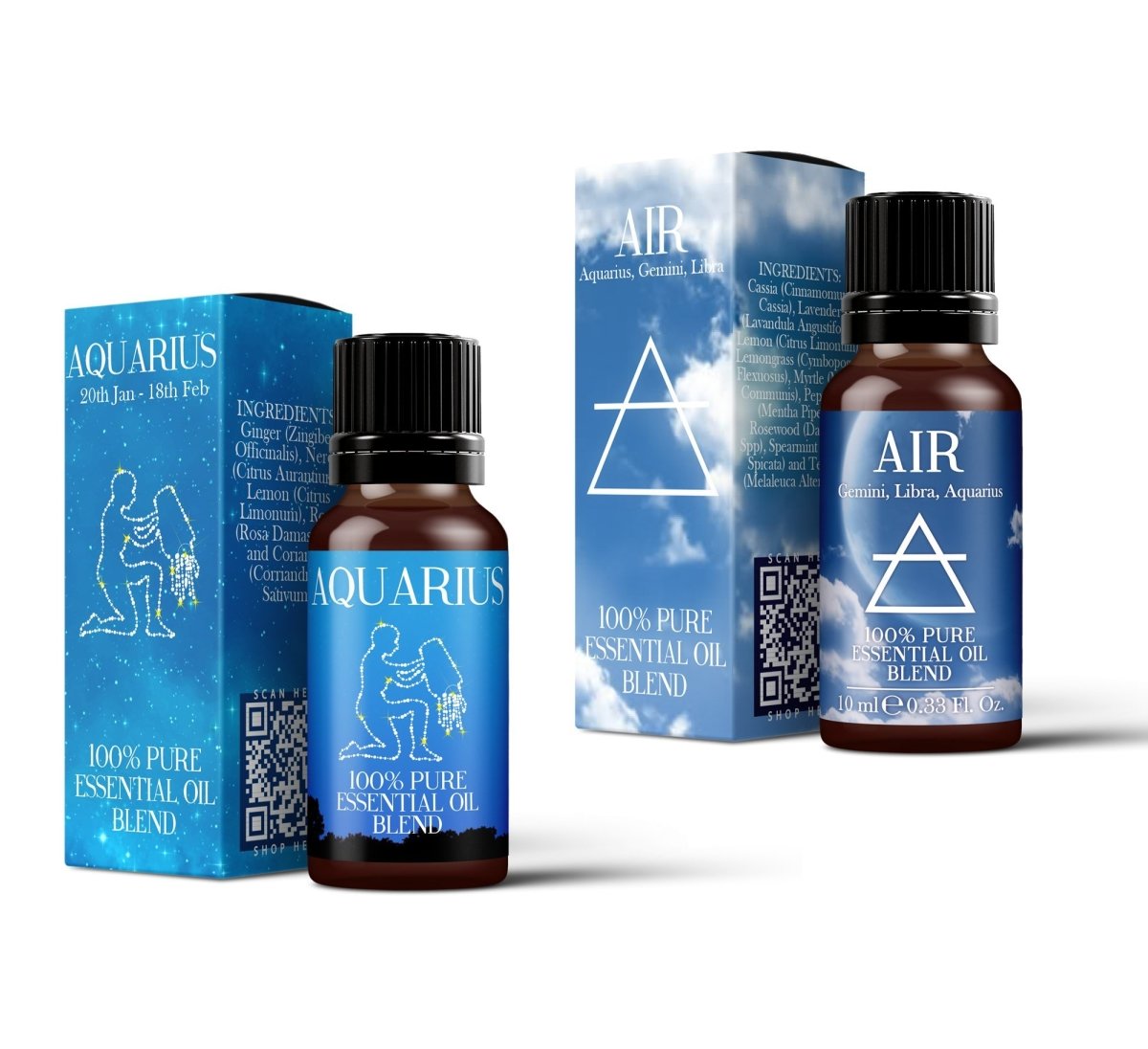 Air Element & Aquarius Essential Oil Blend Twin Pack (2x10ml)
Rewards:
With more ways to unlock exciting perks, this is your all access pass to exclusive rewards.
Join now
THE AIR ELEMENT: Logical
The Air element promotes communication, travel, intellect, eloquence, divination, freedom, wisdom, inspiration and imagination. The essential oils Cassia (Cinnamomum Cassia), Lavender (Lavandula Angustifolia), Lemon (Citrus Limonum), Lemongrass (Cymbopogon Flexuosus), Myrtle (Myrtus Communis), Peppermint (Mentha Piperita), Rosewood (Aniba Rosaeodora), Spearmint (Mentha Spicata) and Tea Tree (Melaleuca Alternifolia) can help you increase your abilities in this area corresponding to the Air element.
The Air Essential Oil Blend brings you a perfect combination of these oils to help you get the most from your element and embrace it.
Strengths: Thoughtful, witty, charming, care free, independent and flexible.


AQUARIUS ( 20th January - 18th February )
This blend contains oils that can help soften the hard headed and stubborn personality traits of an Aquarian. Also contains oils that are very beneficial in helping to improve poor circulation.
INGREDIENTS:
Ginger (Zingiber Officinalis), Neroli (Citrus Aurantium), Lemon (Citrus Limonum), Rose (Rosa Damascena) and Coriander (Corriandrum Sativum).
How to use:
Add 5-7 drops (0.3 ml) to water in a vaporizer or burner.
Add 10 drops (0.5 ml) to 15-25 ml of carrier oil for use in massage.
Add 6-15 drops (0.1 ml) per 30g of selected Skincare Base before application.
Add 2 12 drops into your bath.
Do not consume or apply undiluted to the skin
---
Specification Documents
---